---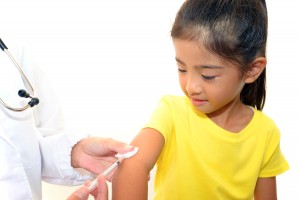 As National Public Health Week gets under way today, it's a good time to examine how California's kids are faring on some classic public health measures, including immunizations, exposure to lead and teen birth rates.
Here's a sampling of public health indicators from kidsdata.org:
IMMUNIZATIONS
California children are required to get several immunizations before entering kindergarten. In 2013, 9 out of 10 California kindergartners received all required immunizations before starting school, but a rise in families using "personal belief exemptions" to avoid some or all required vaccines has public health officials concerned.
See data by county:
Kindergartners with All Required Immunizations
Kindergartners with Immunization Exemptions

LEAD POISONING
Exposure to lead has been linked to lower IQ, behavioral problems and other health problems in children. In 2011, 2,156 children/youth in California ages 0-20 (0.3% of all children tested) were found to have elevated levels of lead in their blood, down from 0.6% in 2007. While elevated blood lead levels are defined as 9.5 micrograms per deciliter or more, most public health officials agree that there is no safe level of exposure to lead. Not all children in the state are tested for lead exposure, however, and the available data may understate lead exposure.
See data by county: Children/Youth with Elevated Blood Lead Levels, by Age

TEEN BIRTHS
In what's widely regarded as a public health success story, teen births have declined sharply in both California and the U.S., although racial disparities remain. The teen birth rate in California decreased by 59% between 1995 and 2012, from 62.9 to 25.7 per 1,000 young women ages 15-19.
See data by county:

LEARN MORE
Be sure to take a look at these other public health indicators, too!
Air Quality: Annual Average Particulate Matter Concentration
Students Who Are at a Healthy Weight or Underweight, by Grade Level
Breastfeeding of Newborns, by Breastfeeding Status
Children Drinking One or More Sugar-Sweetened Beverages Per Day
Children Who Ate Fast Food Two or More Times in the Past Week, by Age Group
Children Who Eat Five or More Servings of Fruits/Vegetables Daily, by Age Group
Sexually Transmitted Infections
Water Quality Violations, by Violation Type
Infants Whose Mothers Received Prenatal Care in the First Trimester
Posted by Barbara Feder Ostrov
Post Comment
---
---
---
---
---
---
---
---
---